Young MAZDA Vehicle Maintenance Checklist
Mazda vehicles are known for their excellent reputation for performance, but you'll still want to be diligent about service if you want that to continue. If you're looking for Mazda service near Allentown , then look no further than Young Mazda. Our team is here to help and ensure you get the most enjoyment from your vehicle for years to come.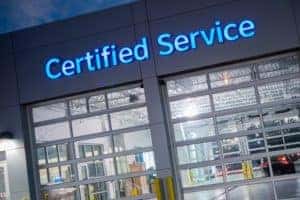 Why Maintenance is Important
New Mazda vehicles are designed and built to extremely high standards. But even a machine designed this precisely will still experience the everyday wear and tear of Pennsylvania driving.
That means that some parts and systems need maintenance or periodic replacement with genuine Mazda parts. If you're diligent, you can get the same goosebumps several years into ownership that you did the day you bought your vehicle — just as you should!
MAZDA Vehicle Maintenance Checklist
Not everything requires a trip to the dealership, like checking tire pressure or keeping your Mazda SUV clean inside and out. But the complexity of modern vehicles means you're better off visiting your Mazda dealership serving Allentown, PA for vehicle care.
• Brake Service: Keep an eye on your brakes to ensure your stops are as quick and reliable as your acceleration.
• Tire Rotations: Evenly treaded tires will help have traction on the road and lessen the need for periodic replacements.
• Electrical Service: This includes battery maintenance and ensures smooth starts and peak performance.
• Fluid Changes: Such as coolant, motor oil, and brake fluid work to cool and protect key systems.
• Multi-Point Inspections: We'll ensure that other parts and components — from belts and hoses to filters — are in tip-top shape.
When to Schedule Maintenance
We understand that life is busy and making it to a service center for your suggested maintenance intervals can be easy to forget. Your owner's manual will let you know what needs to be taken care of, and when.
One benefit of our service department is that we'll send you reminders for the essentials once you're in our system. And it's always a good idea to stop by if something doesn't sound or feel right, or if you're just making sure your vehicle is ready for a road trip.
Why MAZDA Dealership Service Matters
We're aware that our Mazda dealership serving Allentown isn't your only option for parts and service. But if you want OEM parts installed by technicians who specialize in Mazda vehicles, you won't find that just anywhere.
Young Mazda also offers Mazda service and parts specials and many other perks, so why go anywhere else? Call or stop by today.