Young Mazda Discusses the Questions You Should Ask Your Mechanic Before and After MAZDA Service
Our Mazda service center has everything your vehicle needs to perform its best. And whether you visit us for a regular oil change or a timing belt replacement, our local Mazda dealers encourage you to ask questions before and after service. Here are some of the most common ones.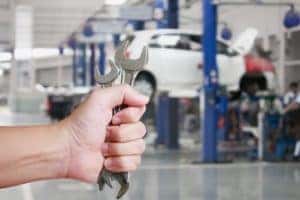 Before Service
Can You Explain the Repair Details in Layman's Terms?
When you visit our nearby Mazda dealership for service, don't hesitate to ask your technician to explain in layman's terms the repairs and why they're necessary.
Don't worry, they won't be offended. On the contrary, our team wants you to have a good grasp of the entire process.
Can I Have a Written Estimate?
A written estimate, which includes the cost of parts and labor, is something you're entitled to before you approve any repair work. Our Mazda service center will happily provide you with one.
Moreover, if additional issues that weren't covered in your original estimate are found during service, we'll contact you first and get your approval before making non-related repairs.
Can I Choose the Type or Brand of the Replacement Parts Used?
You can but expect our Mazda parts specialists to make a strong argument for using genuine, Mazda-produced original equipment manufacturer (OEM) parts. These parts are a direct fit with the specific year, make, and model of your vehicle.
After Service
Can I Have an Itemized Invoice?
After the work has been completed, we'll provide you with an invoice that confirms all of the tasks and checks we carried out, as well as the parts and fluids that were replaced.
Can You Provide a List of Things to Pay Attention to Down the Road?
Preventive care is a big deal at Young Mazda, and we encourage customers to ask for a list of things to keep an eye on in the weeks and months following a service appointment.
Will Your Repairs Affect Any Other Components?
It's always a good idea to ask your mechanic if the repairs could have an adverse effect on other components or systems in your car.
Schedule Mazda Service Today
Between our certified service technicians and our regular parts and Mazda service specials, you'll find plenty like at our nearby Mazda dealership. Click the "Service & Parts" tab on our website, select "Schedule Service", and make an appointment with us today.