Who Makes MAZDA Vehicles? MAZDA Brand History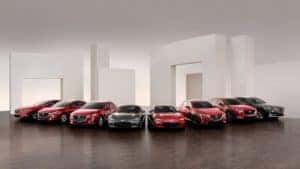 Although you probably know a bit about the history of famous car manufacturers like Ford, there's a chance that you have no idea who makes Mazda vehicles. At Young Mazda, we want you to know the history of these premium vehicles and the rich story behind the cars you love.
History of MAZDA
The Mazda Motor Corporation is based in Japan. It started in Hiroshima in 1920 where they started as a manufacturer of cork and later three-wheeled motorcycles called "Autorickshaws." It wasn't until much later when they finally started making passenger cars.
Initially, the company was called the Toyo Kogyo Co. Ltd. The name "Mazda" comes from Ahura Mazda, the god of light. It also derives from the founder of Mazda, Jujiro Matsuda. However, the name Mazda wasn't official until 1984.
Mazda began developing Wankel rotary engines in the 1960s, and passenger cars came soon thereafter. Early cars included the R360 Coupe and the Mazda Cosmo Sport. After finding success with these vehicles, Mazda partnered with the Ford Motor Company from 1974 until 2015 when Ford sold its remaining shared in Mazda.
After working with Ford, Mazda began a partnership with Toyota. This partnership led to some of the awesome Mazda vehicles you know and love today such as the 2021 Mazda6.
MAZDA Today
Clearly, Mazda has come a long way since the early days of manufacturing cork and motorbikes. The main headquarters is still in Japan, but there are now nearly 50,000 employees working for Mazda. As of now, the Mazda Motor Corporation is worth about $5.6 billion.
The company has created amazing vehicles such as the Mazda CX-3, Mazda3 and the Mazda MX-5 Miata just to name a few. Stop by Young Mazda today to learn about these cars and to take your place in Mazda's history.