When Your MAZDA Car Needs an Oil Change, Choose the Service Pros at Young Mazda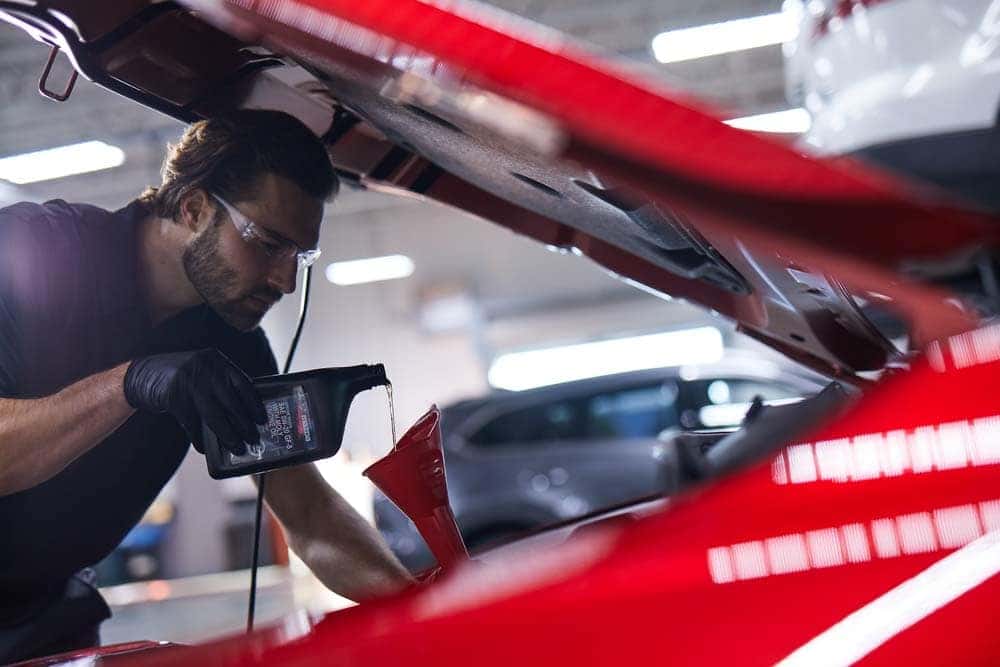 For as well-engineered as your Mazda automobile is, it still needs a regular Mazda oil change in order to perform its best. And rather than spend time changing your own oil and potentially creating a problem, defer to the service pros at Young Mazda and trust our expertise.
Why Regular Oil Changes are Important
An oil change is one of the most important services we provide. Whether you own a brand-new sedan or a pre-owned Mazda SUV, your car stands to reap several benefits, including:
Better Gas Mileage: Old, dirty oil inhibits an engine's performance and hurts gas mileage. Regular oil changes can improve your car's gas mileage by 1% – 2% over time.
Engine Lubrication: A well-lubricated engine is far less likely to overheat or breakdown.
Cooling: Your engine's many fast-moving parts create friction, which in turn creates heat. Fresh oil enhances performance and keeps your engine cool.
Longer Lifetime: The longer you go without an oil change at our Mazda dealership, the harder your engine has to work – and the shorter its lifespan.
Cleans the Engine: The aforementioned engine problems are mainly caused by a build-up of sludge (old oil) and particulates. Regular oil changes remove these materials from the engine, minimizing corrosion and maximizing performance.
Our MAZDA Service Center
Our cutting-edge Mazda service center is well-equipped to handle your vehicle's oil changes, and much more. The combined expertise of our factory-trained technicians and our highly experienced service advisors ensures your car's oil is changed quickly, inexpensively, and correctly.
All facets of Mazda maintenance are handled within in our state-of-the-art facility, which boasts the latest tools and technology and stocks a variety of different automotive oil types. Moreover, in the event that your car requires new Mazda parts or accessories, you'll rest easy knowing we only use genuine OEM components.
Schedule an Oil Change Today
Your pre-owned Mazda6 or new Mazda CX-50 deserves the best care, and that's exactly what the experienced team at Young Mazda provides. Visit us for regular oil changes, engine maintenance, and more, and be confident that your car will always perform its best.