What is the i-ACTIV AWD® System?

---
No matter if the roads are slick or the weather is getting bad, Mazda wants to keep drivers in control. That's why the fully autonomous i-Activ AWD® system was crafted. You don't have to worry about sacrificing the excellent fuel economy ratings Mazda is known for to achieve greater traction and wheel grip. Find out more about this innovative system as well as which models have it with us at Young Mazda today!
How Does i-ACTIV AWD® Work?
The i-Activ AWD® system constantly tracks road conditions and small changes in wheel speeds using a series of sensors to help the system get the information needed to create a picture of the surrounding driving conditions. The system can then make adjustments to the amount of torque allocated to the front and rear axles. This is what makes i-Activ AWD® an active torque split AWD system, and what makes it such a great choice for Bethlehem roads.
What is the Front-Wheel Slip-Warning Detection System?
The Front-Wheel Slip-Warning Detection System also uses a variety of sensors — but for another purpose. These sensors monitor ground speed and front-wheel speed, allowing the system to sense tiny wheel slips that could lead to tire spin. The Torque Control System works closely with Front-Wheel Slip-Warning and i-Activ AWD®. Even in FWD mode, it almost instantaneously transfers a small amount of torque to the rear wheels and helps your vehicle switch to AWD without lag.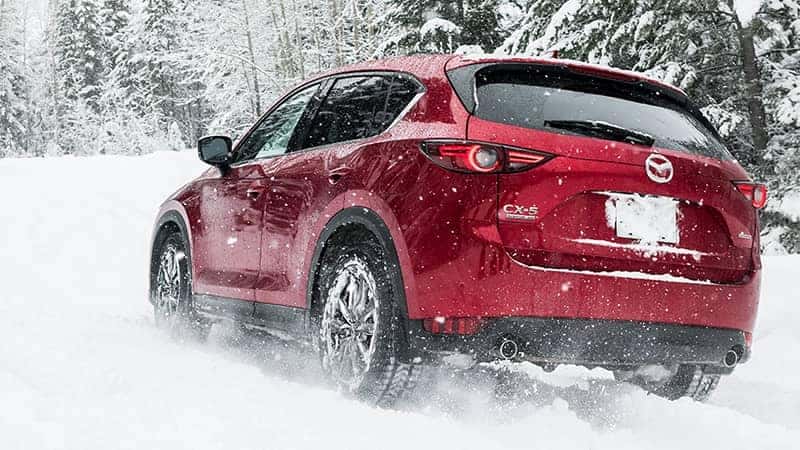 Which Models Have Mazda AWD?
Mazda's compact cars, such as the Mazda3, are offered with front-wheel drive only. i-Activ AWD® is available on all of the Mazda SUVs:
Explore Mazda AWD Cars at Young Mazda!
Take a new Mazda SUV for a test drive around Nazareth to fully experience all this system and our models have to offer you and your driving needs. In the meantime, check out our new vehicle specials, apply for financing online, learn about GAP insurance, good mileage for a used car, or learn more about our models including our Mazda AWD cars, the Mazda CX-30 price, and more. Be sure to contact us with any questions!
More From Young Mazda
With so many new fuel efficient cars on the market, you may be tempted to upgrade. But, you don't necessarily need a new car in order to get better gas mileage. These tips can help you boost the fuel efficiency in your current vehicle.

When you drive a fantastic vehicle like the Mazda CX-5, it's important to maintain it well. Fortunately, this can actually be very easy. All you have to do is ensure that it gets the right service at the right times. This guide will help you create an effective schedule.

With gas prices hitting record highs, fuel-efficiency in cars is at the top of mind for many American drivers. Here at Young Mazda, our dealers have noticed that an increasing amount of buyers are inquiring about fuel efficiency, and one of the most common questions is whether used cars are more fuel-efficient than new cars….