Learn Common Financing Terms with the Support of Young MAZDA
Mazda financing may feel overwhelming at first, but it doesn't have to be. With the information and resources here at Young Mazda in Easton, you'll feel confident on every step of the car financing process.
We believe you deserve the financing tools that make it easy to walk away with your favorite car and a sense of accomplishment, and it all starts with a little background knowledge.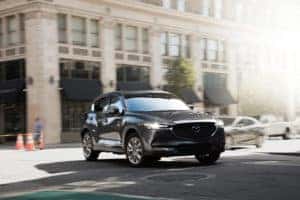 Common Financing Terms to Know
Knowledge of common financing terms and phrases will go a long way when it comes to finding the right financing path for your used Mazda CX-5 or Mazda CX-9.
Here are a few of the most useful:
Down Payment: The down payment is the amount of money you give the dealership on the day of the vehicle's purchase. The bigger your down payment, the less you will have to pay over time.
Interest Rate: Interest is the cost of taking out a loan for your vehicle. You'll want to pay back the loan as quickly as possible, so you won't accrue heavy interest costs.
Principal: The principal refers to the amount of money loaned for your new Mazda. You will pay more than the principle once fees and interest are factored in.
Book Value: You can refer to the "book value" to determine what a vehicle is worth and how it changes. One of the most common standards is set by Kelley Blue Book.
Credit: Your credit plays an important role in what new car or SUV for sale is available to you. Good credit means a lower down payment and lower interest rates, but there are options for any type of credit.
Term: Your term is the amount of time you have to pay back a loan on your vehicle, though you can pay it back more quickly.
Why Visit Young Mazda for MAZDA Financing?
 There are many reasons to make Young Mazda the Mazda dealer in PA you trust for financing support. Here are just a few:
Easy online finance application
Vehicles available for under $10,000
Payment calculator
Kelley Blue Book Value Trade-in Estimator
Specials and deals on new and pre-owned cars
Our job isn't over the day we help you find that new Mazda sedan or SUV. We also offer reliable service at our Young Mazda service center and Mazda parts you can trust.
Schedule an appointment with our financing team in Easton to get started today.